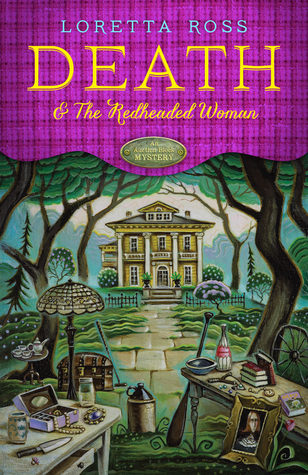 Mystery
Death (pronounced 'Deeth') is a bounty hunter and private investigator who's down on his luck. After his ex-wife left him penniless and homeless he finds himself living out of his car. To top it all off, his lungs were severely damaged after an IED destroyed the humvee he was riding in while on a deployment and now any physical activity can leaving him gasping for breath.
Wren is an auctioneer and appraiser working on a deceased estate to catalogue everything for sale. Unfortunately one of the first things she finds in the house is a naked dead man.
When Death learns who the dead man was he immediately sees an opportunity to track down some stolen jewellery and collect a tidy reward. He joins forces with Wren and they begin their search. But one of the bandits also wants his payday and he's none too happy to have them in the picture.
---

Death and the Redheaded Woman is a complete hoot. The minute Wren used an atlatl (spear thrower) against the bad guys I was hooked. Well actually I was hooked before then but that just sealed the case. The writing style reminds me a little of Molly Harper with its clever banter and very funny moments. This really is a great book.
If there is a downside, I don't think it ended well…well actually it ended quite well and then an epilogue was tacked on which didn't really work for me. But that's a small thing and honestly hardly worth mentioning.
Yellow, Orange, Red. What it means:  red-orange-yellow-guide