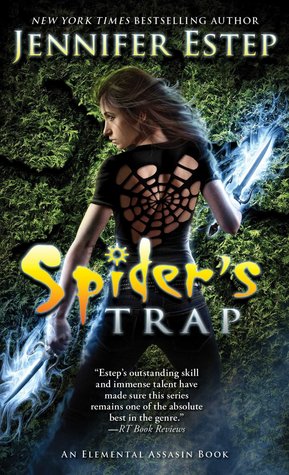 Urban Fantasy
Anyone who wants to control Ashland's underworld needs to kill Gin Blanco, The Spider first. Gin has finally had enough of every two bit hood who wants to make a name walking into her BBQ Restaurant, the Pork Pit and attacking her. So without very much enthusiasm she has taken over the Underworld herself.
What follows is meetings, meetings, meetings, refereeing petty disputes between mobsters and as it happens, still having every two bit assassin gunning for her. Then, at one of her boring business meetings she finds herself the target of a very powerful metal elemental, and he doesn't care how many of her friends he kills to get to her.
She once again takes on the role of The Spider and starts hunting down this new threat.
---

Jennifer Estep writes great urban fantasy and it's getting much better as she develops as a writer. The last few books have in my opinion been the best in the series and Spider's Trap is close to perfect. To be honest the only thing that didn't really work for me was the romance, and I'm primarily a romance reader. I just don't think it works for these books and perhaps a closing door, or crashing waves, or a train going into a tunnel would serve the book better.
Setting aside my desire for cheesy sex metaphors, I loved this book and am looking forward to the next one.
Many thanks to Pocket Books and Edelweiss for providing me with this ARC
Orange, Red. What it means: red-orange-yellow-guide