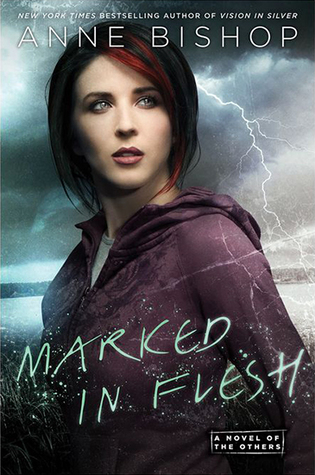 Urban Fantasy
When Meg first arrived in Lakeside, on the run from the Controller (Book 1, Written in Red), she changed things forever. She found a place for herself within the Others –– the werewolves, vampires and other terra indigent who live there –– as their human liaison and through her prophecies has saved them more than once.
Now things are coming to a head. The HFL (Humans First & Last) movement have moved from small acts of prejudice to open hostility and violence towards the Others. As foment spreads across Thaisia, a small group of the Cassandra Sangue (blood prophets) are the only warning of the impending violence. And as war approaches, even Meg can't predict where the pieces will fall and whether any of those she loves will survive.
---
I loved Marked in Flesh, I just couldn't put it down. It's a toss up between this book and Murder of Crows as to which is my favorite in the series. I'll probably go with Murder of Crows just for the simple reason that the conclusion of this book was a little unwieldy, it was probably around 50 pages when 10 pages would have served the book better. That's my opinion and I should note that I'm very much in the minority. Most people I know think it's perfect. Honestly I think it's perfect in everything except the ending.
Orange, Red, Yellow. What it means: YOR-Guide